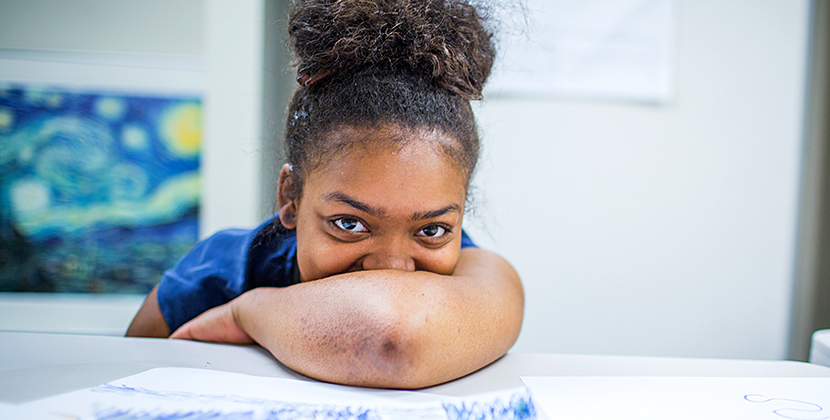 Helping young adults thrive
No young adult should age out of foster care alone.
Our Young Adult Self-Sufficiency Program (YASS) gives young people aging out of the foster care program a chance to find success. We empower these young adults with the life skills they need to become contributing members of society.
How we help young adults
The Young Adult Self-Sufficiency (YASS) program gives young people ages 16–21 the support they need to thrive after foster care. We provide:
Independent living
Individual treatment planning to identify strengths and set goals
18-week course on applying for jobs, interviewing, relationships, finances, safety and community activism
Stable and positive support network
Mentors who help teens gain independent living skills
Transportation to appointments
Education monitoring and tutorial services
Monthly stipend
Building self-sufficiency in young adults.
Do you know a teen aging out of foster care?
The Children's Center helps foster care teens develop the life skills they need to flourish as an adult.
Youth in our program are required to be in school or working full-time, or some combination of the two.
Empowering young adults in foster care.
Each year thousands of young people age out of foster care without a home. The Children's Center Young Adult Self-Sufficiency Program provides them with the services they need when they don't have anywhere else to turn.
Learn more
You can visit us at 79 Alexandrine West, Detroit, MI 48201, or give us a call at 313.831.5535.
You can help a foster child heal
A safe home. A loving environment. Nurturing caregivers.
To a foster child, it's a wish. A dream. You see, our children have seen life through the lens of hopelessness. Abuse. Trauma. Being in a loving foster care home offers our children the chance to know protection, compassion, hope. The chance to experience the joy of simply being a child. And to build bigger dreams than even they imagined.