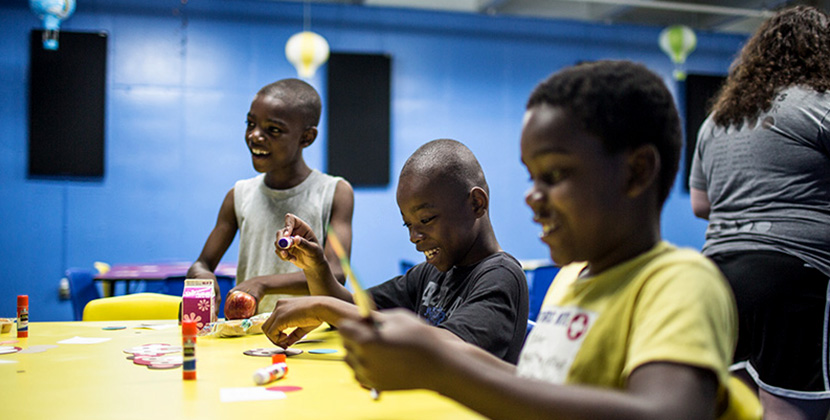 Our Social Skills Groups are FREE for your children and teens

The Children's Center is offering new, free Social Skills Groups! The group sessions are in-person for 10 weeks, and your child(ren) or teens(s) do not have to be a client(s) of The Children's Center to attend.
Program Description
SOCIAL SKILLS GROUPS OVERVIEW
The Social Skills Group (SSG) is a clinical service that teaches and promotes appropriate interaction with peers, in a social setting.  SSG assist children and their families in learning and practicing specific skills that can be practiced at home or within their community to promote positive outcomes. Social Skills group specifically assists children in learning various important skills such as helping them to identify appropriate boundaries and safety precautions, learning to compromise, safely interacting with peers, conflict resolution, negotiation, emotional regulation, and advocating or planning for one's future. Social Skill Groups rotate throughout the year and each group runs for 10 consecutive weeks.
Groups are led by a licensed clinical therapist, with the assistance of other clinically trained professionals.  Multiple groups are developed to address a variety of skills and are separated by developmental age ranges.  The groups utilized researched curriculum and behavioral interventions to promote a positive and fun learning environment.  Regular attendance is crucial, as each session builds upon skills learned in the previous session.  Due to the accumulation of SSG material, children that are absent for more than 2 consecutive weeks, will be excused from the current cycle and will be asked to re-evaluate their participation for next cycle.
SOCIAL SKILLS GROUPS STRUCTURE
Social Skills Groups are held in-person (unless otherwise stated) Monday through Thursday from 5 p.m. to 6 p.m. The enrollment process is based on a "first-come, first-serve basis" and is not guaranteed. For current TCC clients, the active referral process is accepted only if the client is in good standing with their support coordination and clinical services. Community referrals are accepted but children must be assessed and screened to meet behavioral criteria to be allowed to participate. The program is conducted for 10 consecutive weeks, in which arriving on time and having exceptional attendance is highly encouraged and recommended.  Children who attend the SSG program are provided with snacks and do receive positive-reinforcement rewards and incentives for their active participation.
Ensure you and your family receive a proper assessment for most appropriate group placement
Collaborate with your treatment team to ensure services are reflected in your treatment plan
Address any problems you identify, during treatment
Provide you with a thorough explanation of services and how they can help you
Respond quickly to your calls, questions, or concerns
Provide you with emergency contact information and a crisis plan
Refer you to additional services, when appropriate
Treat you with dignity and respect, at all times
Sign up today!
Contact Cindy Read at 313.262.1167 or Holly Lawson at 313.398.6919 with questions or to sign up.