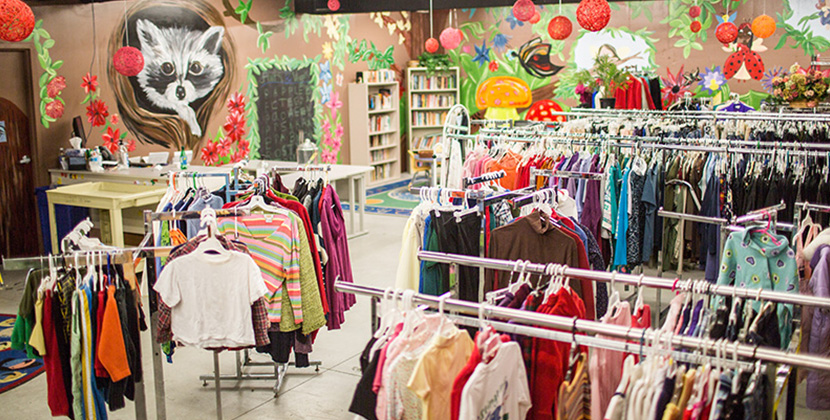 Help us provide families with basic necessities
It is an overwhelming challenge for many parents and caregivers to meet the basic needs of their families. That's why we created Children's Center Boutique and Food Pantry and at The Children's Center.
Children's Center Boutique is a short-term, crisis resource where children and families can shop free-of-charge for clothing, hygiene supplies, food and various household items. Our shelves are stocked solely by the generous support of people in our community, like you.
During the holidays, we transform the boutique into a festive holiday atmosphere, providing a wide array of new, donated items. Every child receives a new toy, stocking stuffer, hat, gloves, socks and underwear. Every family receives a blanket and a $25 grocery gift card for a delicious holiday meal.
Seasonally appropriate clothing of all sizes-birth to adult

Both men and women clothing

New or used-shoes, accessories, purses, ties, jewelry

New-underwear, bras, socks
Any size product (travel to bulk). Must be new and unopened

Suggested items include: deodorant, toothbrush, mouth wash, comb/brush, toothpaste, diapers, razors, shaving cream, toilet paper, feminine hygiene products, lotion, shampoo, and conditioner.
No glass items. Nonperishable can or dry goods. We accept baby food and formula.
Drive is seasonal (October through December)
New or gently used coats. Boys/girls coat sizes 2T-Mens/womens sizes 3XL.

Warm winter accessories-hats, mittens, gloves, scarves, boots, snow pants.
Drive is seasonal (October through December)
New toys and stocking stuffers
New hats and gloves
New fleece blankets
Donate to Children's Center Boutique and Food Pantry
It is difficult for our children and families to focus on their mental health therapy when they are struggling with basic needs. Your donations directly serve these families, so they can concentrate on healing, growing and thriving.
To donate, contact Adrienne Polumbo at 313.979.1728 or apolumbo@thechildrenscenter.com.