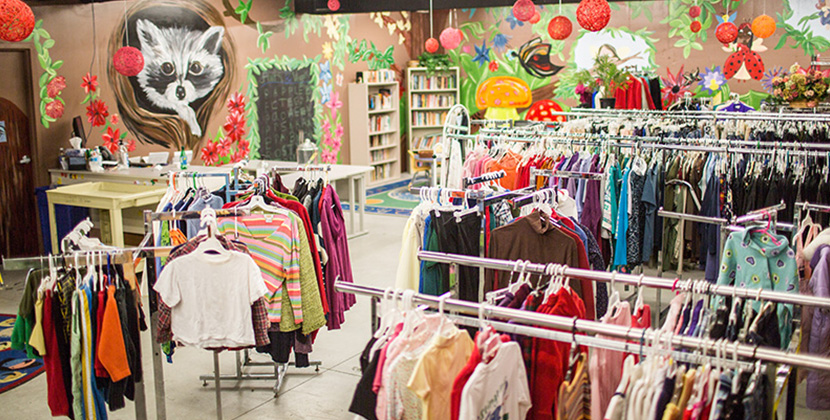 Help our children meet their basic needs
Before you can begin to address a family's mental health challenges, you have to help them meet their basic needs. The Children's Center Boutique serves this purpose. 
Our boutique is a gently used clothing closet, food pantry and resource area, generously run and stocked by volunteers.
How it works
Our boutique serves more than 250 families per month. The Children's Center families can visit the boutique twice per month and shop free of charge for all immediate family members in the household.
We need donations!
non-perishable food

diapers

hygiene products

gently used clothing items and accessories (from birth through adult sizes)

household items (cookware and dishware)

children's books

plastic toys that can be sanitized
Make a donation
Because the boutique is run through the generosity of volunteers, we do not offer donation pick up. You can place your donations in the cart located in the lobby of Building 90. Be sure to complete an in-kind donation form and give it to the boutique volunteer, so we can send you a gift acknowledgement letter for tax purposes.
We accept donations during campus hours:
Mondays – 9:30 am – 2 pm
Tuesdays – 9:30 am – 2 pm
Wednesdays – 9:30 am – 2pm
Thursdays – closed for cleaning and reset
Questions?
For questions or to notify The Children's Center of a large donation, please contact Cindy Read at cread@thechildrenscenter.com.