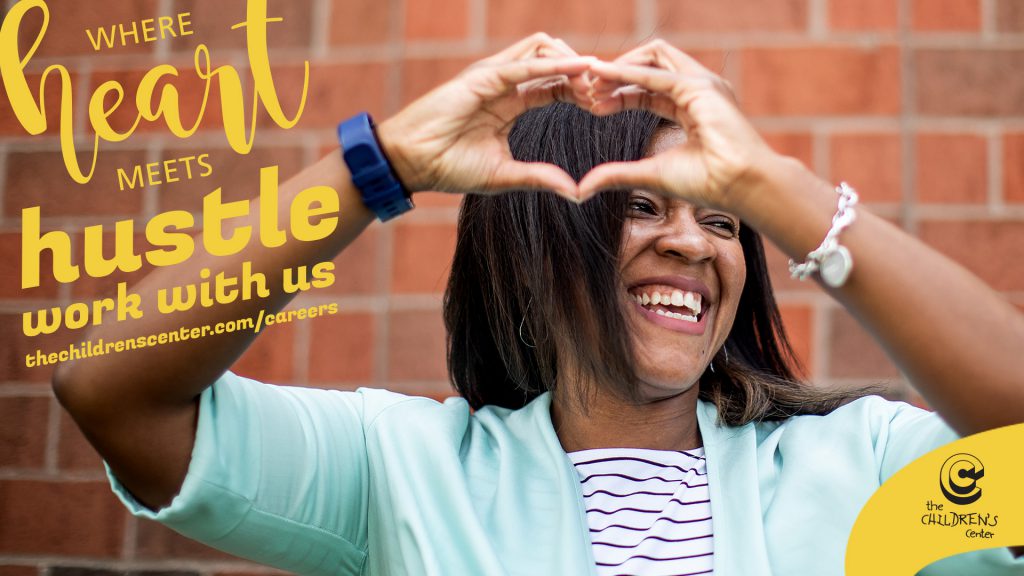 Where heart meets hustle.
How often do you wake up in the morning knowing you'll make a difference? If you think you've got the hustle and heart to join our crew, click to browse our job openings.
Our staff will tell you, it's part of the job here at The Children's Center. We work with Detroit kids who are faced with abuse, poverty, and neglect. Giving them the power to reclaim their life, their hopes, their wishes for tomorrow.
We help children dream again.
We're looking for talented candidates to join our crew. Highly skilled individuals who can bring heart and hustle to our inspiring kids and families.
Our staff has heart. And hustle.
See some of the videos our staff made that show how they have passion, positivity and a never-say-never attitude to work every day.
Let's see what you've got.
If you think you've got the hustle and heart to join our crew, we want to meet you! To get the conversation started, click to browse our job openings.
Equal Opportunity Employer
The Children's Center is an Equal Opportunity Employer and we take pride in our dynamic and innovative results-oriented workplace. We are a strong team that makes a big impact, and we offer competitive compensation packages and a comprehensive new hire orientation, plus excellent benefit plans, including four weeks of paid time off in the first year.
We offer positions with varying levels of responsibility for the development and support of our mission.

Licensed Health Care Providers
May Earn Toward Student Loans
Licensed health care providers may earn up to $50,000 toward student loans in exchange for a two-year commitment at an NHSC-approved site through the NHSC Loan Repayment Program (NHSC LRP). The Children's Center has been an approved NHSC site since 2015 to assist our qualifying employees earn toward their student loans.
We took the Pledge!
The Children's Center of Wayne County (TCC) is committed to creating a diverse and inclusive workforce. We believe the contribution of our
employees to organizational success is enhanced, and not limited by, their age. We celebrate the differences and believe that together we are a stronger, more united organization. TCC wants our employees, regardless of age, to feel valued. We are proud to be part of the AARP Employee Pledge Program — a nationwide group of employers committed to developing diverse, high-performing organizations by leveraging workers of all ages.