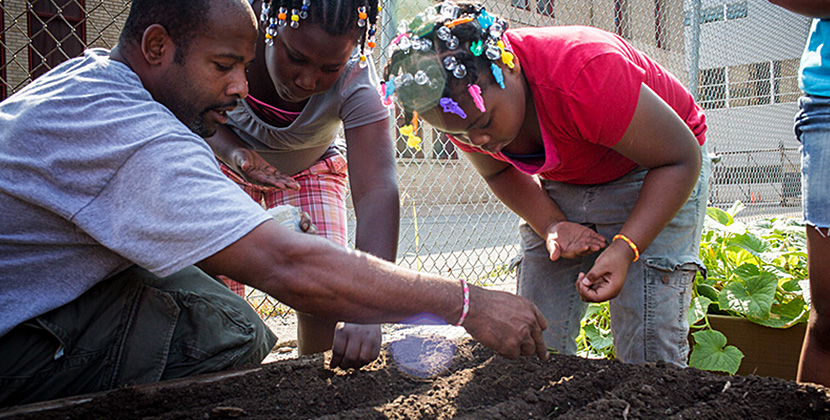 Involved fathers do make a difference.
Helping fathers and children thrive
Children with more involved fathers have healthier, more fulfilling lives with fewer behavioral, emotional and academic issues. The Children's Center Fatherhood Initiative works to support fathers in our community by helping them play a leading role in their child's life.
Did you know?
Children with involved fathers are less likely to act out in school or engage in risky behaviors in adolescents
Research shows that children with more involved fathers experienced fewer  behavioral problems and scored higher on reading achievement
Children without a father are twice as likely to drop out of school
An active and nurturing style of fathering creates better intellectual functioning and fewer behavioral and emotional problems
We empower fathers
The Children's Center Fatherhood Initiative is committed to helping fathers, male caregivers and their families achieve positive outcomes and become strong advocates and role models for their children. We do this by providing a range of assistance for fathers:
Encourage/Empower Fathers to participate in their child's mental health system of care
Assistance with Friend of Court challenges
Fatherhood Support Network with access to "The 7 Habits of a 24/7 Dad"
Father-child social activities, including educational workshops specifically for fathers
We educate other service providers to understand the need of fathers, their children and families
Advocate for fathers through TCC's leadership role in the Wayne County Fatherhood Initiative Taskforce
Let's work together for your child
It's critically important for fathers to take on a highly active and responsible role in the lives of their children. In a welcoming and supportive environment, we help fathers reconnect with their children and understand the positive and long-term impact they can have on a child's life.
Fathers matter
Learn how to connect with your children and understand the positive and longterm impact you can have on your child's life. We encourage you to participate in our Fatherhood Initiative, leadership committees and social activities. As an active member in your child's life and in our Fatherhood Initiative community, you'll be shaping your child's future in important ways.
Take our survey
Click here to provide feedback regarding the Detroit Wayne County Fatherhood Initiative!
Tips for fathers during challenging times
Are you a father having feelings of anxiety about recent events and are uncertain about what lies ahead? Social separation can make us feel powerless and isolated. There are things you can do to support your family, provide yourself with self-care to reduce the impact of such feelings. Click to read more about parenting tips for dads during the COVID-19.
Contact us today
Give us a call today at 313.262.0944 to learn how you can make the difference in your child's life.