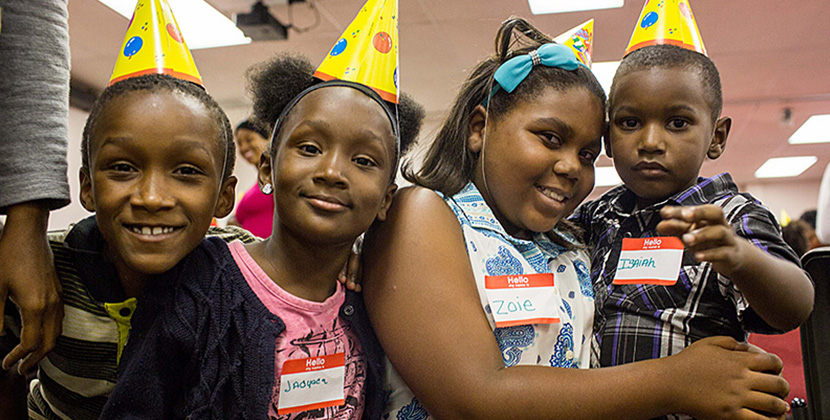 What we advocate for
Our vision is to a world where all children have equal access to care so they can heal, grow and thrive. We believe every child deserves a chance to succeed. Our advocacy priorities and position on children's mental and behavioral health and other issues direct our public policy advocacy efforts. To get there, we must support laws, rules and policies that improve the mental well-being for all children. Learn more about our priorities and how you can help.
Increase Administrative Rates for Agencies
The Children's Center continues to meet with State Representatives and Legislators about increasing the administrative rate for agencies. As a result, the State has approved a $5.00 increase for administrative rates for foster care. This will become effective 10/1/16.
Michigan Statewide Automated Child Welfare Information System
The State approved a $5,000,000 budget line increase for enhancing the Michigan Statewide Automated Child Welfare Information System. While The Children's Center has advocated for these needed enhancements, we are also advocating that private agencies also need resources to help with training staff on the changes made to the system.
Improving Access to Care for Foster Youth
The Children's Center is currently reaching out to Department of Health and Human Services (DHHS) to address improving access for children in the foster care to receive behavioral health services. Although all children entering the foster care system have experienced some level of trauma, if the child does not openly display issues related to the trauma or do not meet the requirements to receive mental health services (Severe Emotional Disturbance requirements based on Child And Adolescent Functional Assessment Scale scores) they are denied these type of services. This prevents the child from receiving the appropriate and timely behavioral health services they need to heal. This also has implication related to maintaining stability in the foster parent or caregiver home.  Foster parents are willing to provide the basic needs for these children but desperately seek additional behavioral health resources for the children when the child presents or shares issues of trauma, depression or other challenges they have or have experienced.
Increase Administrative Rates for Children Participating In Independent Living programs
Having a dialogue with DHHS staff and State Legislators about increasing our administrative rates for children in our Independent Living programs. About 10 years ago, the State transitioned to standardized rates in the foster care system and all foster care contracts that included Independent living services in their master contract received a base rate of $25.00 for administrative costs. Today in Foster Care, the Administrative rate is $45.00 and the Independent Living Program rate is at $28.00. The rate disparity between foster care and Independent living (for those agencies that have Independent living in their master foster care contracts) has widened.  The amount of intensive direct services and supports for these youth have increased, yet administrative rates remain unchanged.
Increase Clothing Allowance for Foster Youth
Advocating for an increase for the clothing order allowance for children in foster care. The current initial clothing order allowance is $105. While foster youth receive two additional semi-annual payments of $102, the cost of living and clothing for youth far exceeds the funds currently provided.
Collaboration
The Children's Center Partnered with Michigan's Children to Host Candidate Forum
The Children's Center partnered with The Sandbox Party (Michigan's Children) to host first candidate forum
The forum took place at The Children's Center in Detroit on July 7th with youth, as young as 14, engaging state House hopefuls.  Their questions focused on a variety of topical issues, including race and discrimination, community and police relations, housing and unemployment, the state of education and Detroit Schools, and more.
Candidates Joseph Tate and Carla Tinsley Smith from the 2nd District, state Rep. Fred Durhal III from the 5th District, and Dennis L. Black, State Rep. Stephanie Chang, and David Sanchez from the 6th District participated, taking turns answering questions posed by youths who had experienced their share of challenges, including foster care, poverty and trauma. For nearly two hours, the emerging conversations kept the audience spell bound and moderator Charlie Langton, the well known broadcaster for WJBK Fox 2 and WWJ News Radio 950, on his feet.
Candidates agreed open communications is critical for restoring trust between police officers and people of color.
2016 Policy Priorities: 
Improving the Odds for all Children and Families in Michigan
In 2016, Michigan's Children will continue to focus on policy priorities that help close equity gaps and improve odds for all children, youth and families in Michigan. We will be taking advantage of opportunities during the budget season and the election season to promote new investment and critical policy changes.
Starting Early
It is well-known that early childhood investments help build the foundations children need for future success while saving taxpayer dollars in the long-run. In addition to ensuring that the state's strong commitment to preschool is maintained and that we continue to strengthen our child care system, Michigan's Children will continue to lead efforts to increase available early intervention services through Early On. Early On serves families with infants and toddlers birth to age three who have a developmental delay or disability, but has no dedicated funding stream to support those services unlike the majority of other states.
Supporting Families
Michigan's Children maintains that a two]generation strategy for public investment makes the greatest impact for improving child outcomes and family prosperity. We will keep promoting voluntary parent coaching and supports through evidence-based home visiting and other essential supports for families to provide a nurturing and stable home for their children. We will also push for increased investments in adult education and family literacy programming as part of statewide efforts to improve 3rd grade reading.
Addressing Trauma
More and more we're learning about the impact of trauma and toxic stress on children's development in school, at home, and into adulthood. Michigan's Children will maintain efforts to help educate decision-makers about the impact of trauma and toxic stress and support efforts to provide trauma-informed professional development for educators and school personnel. And, we will put a brighter spotlight on renewing state investments in services that prevent trauma in the first place. As a champion on raising up the voices of children and families served by the state's child welfare system, we will work with policymakers on passing a meaningful Children's Assurance of Quality Foster Care Act and other improvements to the state's child welfare system.
Expanding Educational Services
With the multiple challenges children today face, schools alone cannot be responsible for the education success of all students. Michigan's Children will continue to define and recommend how the state should incentivize quality models of integrated student services/community schools and increase funding for school]based health services. We will be building new allies and strengthening community voices to promote increased investment in expanded learning opportunities that model the 21st Century Community Learning Centers program, and work to improve access to and quality of after school and summer learning options. The children who most need learning opportunities beyond the school day and year are often the least likely to get them.
Create Equal Access for Children, Families and Staff of Color
Partnering with the Alliance for Strong Families and Communities to create equity for children, families and staff of color. They have challenged private agencies to look at the changing demographics in our respective communities to see what are we doing to ensure equality for all, including the LGBTQ community which has an enormous need, yet they are continued denied access to services. Men are denied services or not viewed as an equal partner in the lives of the child.  
Additional Resources for Children and Families
Partnering with the Association of Accredited Child and Family Agencies  to work with legislators and DHHS representatives to advocate for additional industry resources for children and families.
Exploring standardizing rates for children's services that cover costs of providing behavioral health and developmental disabilities (including autism spectrum disorder) services.
Standardize MCPN Audit Requirements
Partnering with Wayne County Authority to standardize the audit requirements of the many different Manager of Comprehensive Provider Networks (MCPN). Currently, all have different auditing tools and requirements.
Ensure Equitable Training for Private Agency Staff
Partnering with the Michigan Federation for Children and Families to:
Ensure equitable training for private agency staff

Exploring outcomes

Transition to performance based contracting, rates and funding, data and payments  
We have participated in their annual legislative day and ongoing meetings with DHHS representatives and legislators.
Our advocacy victories
Expanded Benefit for Children with Autism
1. Why is the expanded benefit needed?
Individuals with autism benefit from behavioral intervention and specifically Applied Behavior Analysis (ABA) irrespective of age. The initial focus was on providing Early Intensive Behavioral Intervention to young children, but that left a gap in services for children transitioning out of Early Intensive Behavioral Intervention (EIBI) and older children, teens, and young adults who present with behavioral, social, and adaptive difficulties.
2. Our role specifically regarding the expanded benefit?
Dr. Kara Brooklier, PhD, Pediatric Neuropsychologist and Senior Director, Developmental Disabilities Services served as a content expert as part of the Michigan Department of Health and Human Services (MDHHS) Behavior Health Services Workgroup and as part of the team assisted with the writing of the clinical policy for diagnosis and qualification guidelines. I also authored the clinical guide for Autism Spectrum Disorder (ASD) evaluations by age and provided a webinar to all MDHHS state providers who serve children and young adults with ASD on the topic of the implications for evaluations with the age expansion.
3. What is this benefit important?
Individuals with ASD and their families often need assistance with skill building and addressing difficulty, problematic and sometimes self- or other-injurious behaviors. For most families this means having a plan for dealing with these challenging behaviors. However, in some situations, having access to quality behavioral intervention can mean the caregiver feels competent, supported, and able to adequately care for the child or individual with ASD in the home rather than seeking out of home placement. The use of ABA can also decrease unnecessary medication use and in-patient hospitalization.
4. What coverage and/or treatment will children and families have access to through this benefit?
Applied Behavior Analysis services.
5. What does this expanded benefit not cover (what's still needed for families)?
For individuals with ASD, access to helpful technology tools, such as iPads and tablets and assistive communication devices.
However, next steps are to ensure evidence based behavioral methods are also provided to children with intellectual disabilities; the research on ABA began with children with ID and the studies very clearly show positive benefit for skill building and challenging behaviors.
6. What else is important for the public to know regarding this expanded benefit?
The benefit not only covers ASD, but also other children, teens and young adults who have severe behavioral difficulties for which ABA would be beneficial.
7. Call-to-action for families who have children with autism?
Focus on evidence based care! ABA has by far the most evidence based support for individuals with ASD. Thanks to the hard work of our Governor and Lt. Governor, access to ABA is open to all children with ASD whether the child is covered by Medicaid or commercial insurance.
Timely and Accurate Payment for Services
The Children's Center advocated for outstanding payments that were owed to us by the State. The result was the State approved an advance payment connected to outstanding payments.
We continue to work on developing a more timely and accurate payment system. All private agencies have increased their staff in order to work through a complicated payment structure to ensure we are collecting payments for the services we provide. If payments are not rendered in a timely manner, the financial stability of private agencies are at risk.
Creating Legislation Guaranteeing Insurance Coverage for Children with Autism
Fighting for children with autism
In Michigan alone, more than 15,000 children suffer from some form of Autism Spectrum Disorder (ASD). 
This year more children will be diagnosed with ASD than AIDS, cancer, and diabetes combined. It's become an epidemic—and an expensive one to treat. 
The challenge
In 2012, the state of Michigan joined 34 other states in passing legislation guaranteeing insurance coverage for ASD. However, no provisions had been established for those children covered by Medicaid.
With behavioral therapies for ASD beginning at $10,000/year, many ASD children who sought services from The Children's Center were unable to receive the interventions necessary to properly treat their disorder.
The solution
The Children's Center Pediatric Neuropsychologist Dr. Kara Brooklier worked to tackle the issue head on. Brooklier spent 14 months on a committee with other healthcare professionals writing legislation that guarantees Medicaid children receive coverage. These children would be qualified to receive intensive, evidence-based interventions with demonstrated successes in addressing the core symptoms of ASD.
The impact
With the passing of this legislation, more than 1,600 children with autism are expected to be treated in the next year. Many will receive comprehensive evidenced-based therapies at The Children's Center. 
Dr. Brooklier notes that in short time since the legislation passed, she has seen an increase in the number of younger children receiving treatment, which gives her hope.
"More than 70% of the kids we treat early are able to transition into the general mainstream and remain there," she says. "That's a great outcome for everyone involved."
How you can help
Are you active on Facebook, Twitter, Instagram or other social media? Get social and share why you're an advocate for children's mental and behavioral health. If you're not sure where to start, check out our Tweetable Facts. Or if you're already a pro, share with us what you're doing on social media to help raise awareness of children's mental and behavioral health issues. And be sure to posts your pics with hashtags about children's mental and behavioral health! 
Here are a few hashtags we use regularly: #MentalHealth #Autism #HelpingHeal #ASD #HealChildrenHealDetroit and #StopStigma.
What you can do:
Your dollars enable us to keep our services free and available to the children and families we service. You can make these resources a reality with your gift.