The Enrichment Team at The Children's Center works very hard to plan events that help bridge the gap beyond receiving therapy services. This is not only a place for therapy; this is a place for families to enjoy. By offering tutoring, book clubs, parent gatherings, hygiene products, birthday parties, and other fun experiences, families can connect with one another. The Enrichment Team manages the boutique which offers basic necessities to families. It can be very difficult to concentrate in school if a child is hungry, hasn't been able to fully bathe, or doesn't have proper winter clothes. Our families love our enrichment services as they help them get the most out of all that The Children's Center has to offer.  The Enrichment Team includes Christine Hudson, Wanda Burke, Andrea DeShields, Joann Al-Hachami, and Cindy Read.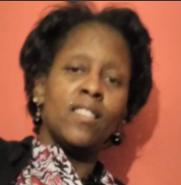 Christine Hudson
Christine is an Enrichment Specialist and has been at The Children's Center for a little over 1 year! She facilitates many programs including, Understanding Dad for Mom, Homework Help, Healthy Living Cooking Class, Just 4 Me Graphic Novel Book Club and The adult Breakfast Book Club.  Christine started volunteering at The Children's Center Boutique in 2017 and said that volunteering at The Children's Center became her happy spot, a "home away from home for her and her children." She felt it was important to give back and share her story of hope with other parents. Christine enjoys chatting and helping families shop in the Boutique. After several years of volunteering, she was asked to join The Children's Center workforce. This was a dream come true for her, she can continue working where she loves to be and receive a paycheck for doing what she loves too! She has the honor of working with a team of wonderful co-workers who are just as passionate about their job as she is.
Wanda Burke
Wanda is the newest member of the enrichment team here at The Children's Center.  Wanda has worked in the nonprofit industry for more than a decade, working to provide resources and opportunities primarily for the older adult population through a tri-county collaborative. Through this work, Wanda deepened her desire to support our communities most vulnerable populations as well as enhanced her understanding of addressing the needs of the entire family. Wanda has a passion for mental and emotional health and promotes every initiative that brings healing and support to our community, especially ones that strengthen the parent-child relationship. This is the passion that brought Wanda to The Children's Center and the enrichment team, with the specific task to advance the parent academy which would support expanding our reach and the need to heal and shape the families in this community. Welcome to the team Wanda, we can't wait to see all the great work you will do!
Andrea DeShields
Andrea's passion lies with serving others. She is a licensed Social Worker and has 25 plus years' experience in the field of Developmental Disabilities which began at New York's Young Adult Institute in the early eighties. After relocating to Detroit, her career has taken her to Vista Maria where she counseled at- risk girls, Services to Enhance Potential (STEP), and Adult Well-Being Services (AWBS). She later served as the D.R.E.A.M Project Coordinator (supported employment) and Clinical Team Leader until she was promoted to DDS Director in 2003.These roles allowed her to use her creativity, social work and supervisory skills to positively change lives of those with intellectual and developmental disabilities. Andrea takes pride in accomplishments that directly improve the quality of life for the individuals served. She is excited and honored to be a part of The Children's Center family on the Enrichment Team.
JoAnn Al-Hachami
JoAnn is a Boutique Specialist managing the Boutique and the Pantry. JoAnn has been at The Children's Center for almost 16 months. She started at The Children's Center as a parent of a client who received and benefitted from the services at The Children's Center. JoAnn loved all the great work being done at TCC and wanted to give back and be a part of such a great organization. As a way to give back, she started volunteering a few times a month that gradually became a daily thing for 8 years until the pandemic. During the pandemic, a position opened to manage the Boutique.  JoAnn is very attached to the work she does at The Children's Center and considers it her "happy place." JoAnn loves helping and interacting with the families that visit the Boutique and Pantry. JoAnn has a wonderful team of co-workers who all make working at The Children's Center a joy and whom she considers her friends and family! JoAnn thinks The Children's Center is the perfect place to work, because when you love what you are doing, it isn't considered work!
Cindy Read
Cindy's focus has always been making sure that our families are treated with dignity and respect while helping obtain what our families need and deserve.  She considers herself lucky to be at The Children's Center for the past 27 years stating that the families and staff have made it so that she never wants to leave. Before becoming the Consumer Engagement Manager, she was a clinician in the MEI (now DDS) program and the Coordinator of Support Coordination. Cindy is also a board certified art therapist and taught Art Therapy to undergraduate students at Marygove College for 18 years. She said she misses bringing her Marygove students to TCC as interns as they were convinced they were going to use art to "save the world!" Cindy also worked for Detroit Public Schools, servicing 9 different locations a week to use art therapy with youths diagnosed with Autism. Cindy believes that art heals in ways that words can never express. The Children's Center gives her the freedom not only to use art but also the means to give back in so many ways alongside a talented team. "I wouldn't want to be anywhere else or working with anyone else. This is where I belong."