National Adoption Awareness Month is an opportunity to raise the issue about the urgent needs of children and youth in the foster care systems.
According to the Michigan Department of Health and Human Services (MDHHS), there are approximately 14,000 children in foster care. Of those, 3,000 are available for adoption at any given time.
Michigan has been recognized as a leader in adoption services due to its strong partnerships between public and private agencies responsible for adoption planning and permanent placement of foster youth.
Permanency is the goal for adoptions, to better benefit the child. A permanent home gives children the opportunity to experience a caring and safe environment to become their best selves.
The Children's Center of Wayne County is proud to be helping facilitate adoptions for decades and we are lucky to have an incredible adoptions team made up of 6 amazing child welfare professionals. In 2018, the adoptions team helped 46 youth find their forever home. In 2019 and 2020, it was 15 adoptions and 26 adoptions respectively. Passion, work ethic, and dedication are just some of the overarching characteristics of our adoption specialists.
We are so grateful to have Amanda Cain, Karelyn Dipple, Princess Gilbert, Cheryl Jackson, Nicole Pilarski, and Carol Wade as our dedicated and talented adoptions team members!
Please read on to learn about each of our team members.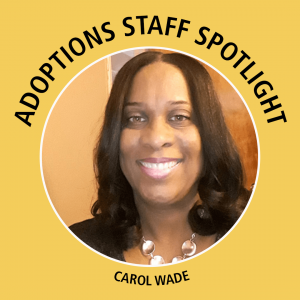 Carol Wade: Carol is the adoptions supervisor here at The Children's Center. Carol has over 30 years of experience within child welfare. Carol studied sociology at Oakland University and has her masters in pastoral counseling. Carol is also a licensed professional counselor (LPC). Her career started in adoptions with Vista Maria in 1989. She then transitioned to adoptions in 1990 at Spaulding for Children. Carol then spent 21 years as an adoptions specialist and supervisor at the Methodist Children's Home. Carol has been with The Children's Center for the last 4 years. She sees this work as her calling: "I believe that my work with adoptions allows me the opportunity to reconcile and possibly restore families after going through the foster care system. Adoption is the opportunity for me to bring a child to a family and make that forever connection". Carol sees herself more as a coach or captain than a manager. Her experience as an adoptions specialist greatly benefits her supervisor role. Carol understands the processes and procedures better than anyone and knows how to overcome barriers within the system to find the best solution for each child and family. Thank you for all your hard work, Carol, we wholeheartedly appreciate everything you do!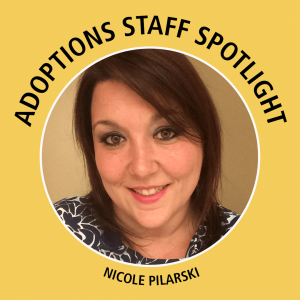 Nicole Pilarski: Nicole is an adoptions specialist and has been at The Children's Center for the last 17 years! Nicole started in foster care and then was recruited into adoptions; there she found her passion. Nicole is extremely attached to the work that she does: "Helping families is very important to me and being able to help children in need find their forever families really became a passion for me". Foster care and adoptions can often be a very demanding and stressful job, however, it is the amazing team of co-workers that Nicole gets to see every day as well as staying in contact with kiddos and families that helps keep her engine going. Thank you for all that you do, Nicole!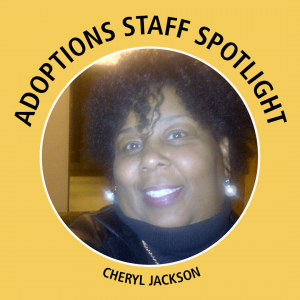 Cheryl Jackson: Cheryl is an adoptions specialist here at The Children's Center and has 30 years of child welfare experience. Cheryl has worked for the City of Detroit (substance abuse), Vista Maria (social worker), and St. Francis Home for Boys (foster care and licensing). Not only this, but she is also a board member for Families on the Move and Big Families of Michigan. Her vast experience in the foster care and adoption systems makes her an invaluable piece of the team. This type of work is very near and dear to Cheryl's heart. As a child, her parents took in her brother's best friend who was homeless at the time. Adoption work comes natural to Cheryl. Helping people is who she is, and this work is guided by her strong faith. The Children's Center is extremely grateful for Cheryl and all the amazing work she does!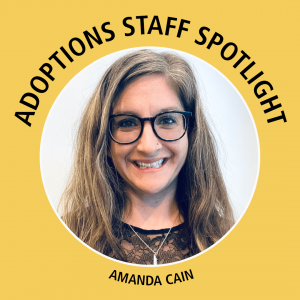 Amanda Cain: Amanda has worked within adoptions at The Children's Center for the last 4 years. Prior to The Children's Center, Amanda worked with juvenile delinquents in Oxford for 2 years and worked in an administration role at a financial company for 12 years. While raising her 3 kids, Amanda worked part time. After her youngest went into elementary school, Amanda saw this as a great time to go back to full-time work. It was then that she chose to reenter the field of social work which landed her in the adoptions specialist position she currently holds. Amanda sees adoption work as a perfect fit for her. Her passion lies with children and helping them find permanency, a forever family. Amanda is deeply connected to the work and having an amazing supervisor and team has made the job even more fulfilling. Thank you, Amanda, for all your hard work!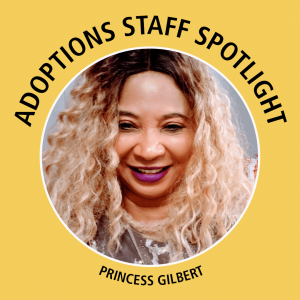 Princess Gilbert: Princess is an adoptions specialist at The Children's Center. Princess has 25 years of foster care and adoption experience. She started at St. Francis Family Services in Southfield before coming into her current role at The Children's Center. Princess comes into the office eager and excited to create change in the lives of youth: "I don't see myself doing any other job besides adoption. It gives me joy that I made a difference in a child's life". Adoptions has been a very fulfilling career for Princess, and we couldn't be happier to have her on the team.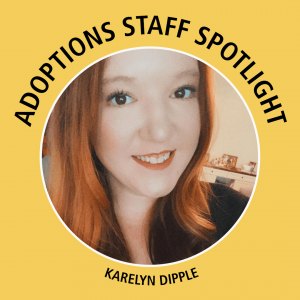 Karelyn Dipple: Karelyn is the newest member of the adoptions team here at The Children's Center. Karelyn has a bachelor's in criminal justice from Baker College and is currently completing her MSW from the University of Michigan. Karelyn is excited to make an impact here at TCC. Finding work that gives back is a priority for Karelyn. She loves bringing permanence to kiddos so that they can grow up feeling loved and safe. Karelyn appreciates the great support system and opportunities for growth within The Children's Center. Welcome to the team Karelyn, we can't wait to see all the great work you will do!