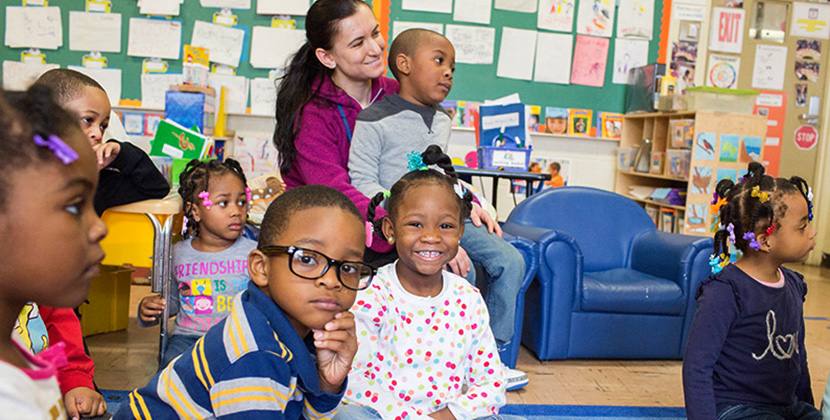 Helping young children thrive
Open the door to an exceptional future for your child
At The Children's Center, we believe every child deserves an opportunity to succeed. Our Head Start Academy provides a safe, high-quality early childhood education program for children ages 3–5. We help prepare children for school, and for life.
Serving kids, helping families
Our Head Start Academy provides children ages 3-5 with an exceptional early educational experience. We provide a free, safe, high- quality early childhood education program that nurtures mental, emotional and physical development.
Our highly acclaimed HighScope curriculum advances learning in the early years and prepares children academically, mentally and emotionally for kindergarten.
As part of the The Children's Center, we draw on more than 86 years of experience in serving Detroit children and families. No other organization in the area can say the same.
Give your child a head start in life.
What makes us unique?
In addition to Early Childhood Education, we also provide:
Psychological and psychiatric services, and autism therapy

Family literacy programs, clothing and food drives, health fairs

Cooking classes, well-being and beauty care for adults

Fatherhood initiatives that build stronger family relationships

Parent committees that assist in administration and activity planning

Children with disabilities welcomed
Education changes lives. We can give your child a head start.
Research shows that children in Head Start are more likely to graduate high school, attend college, and gain employment. Offer your child a promising tomorrow by enrolling in Head Start today.
Enroll your child today. Free.
If your child resides in 48219 or 48235 zip codes, you can enroll your child today.
To enroll, visit us at 19900 Evergreen, Detroit, MI 48219, or give us a call now at 313.481.5114.