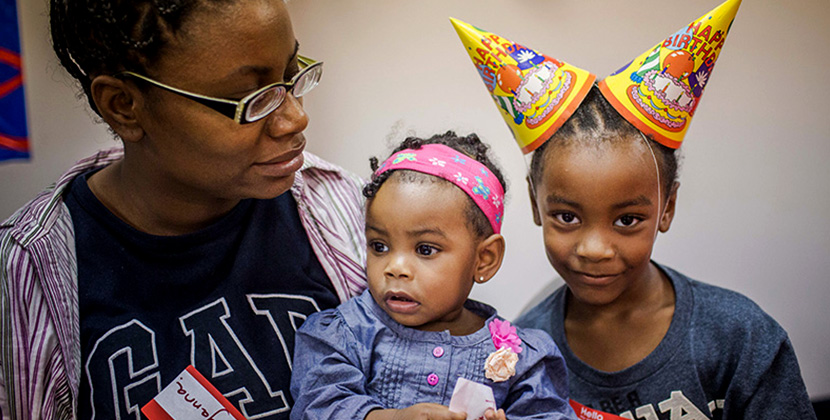 This is your Consumer Council
The Consumer Council is designed to encourage families whose children are clients at The Children's Center to be involved in, and participate fully, in decisions related to their care and services. The council uses consumer ideas to improve services and agency management practices by:
Serving as an advocate for children, youth, and families at The Children's Center by being a voice for those we serve and providing recommendations to the organization and its staff.
Helping new clients and their parents understand services and resources provided by The Children's Center.
Improve community awareness of services and resources provided by The Children's Center.
Please join us! Consumer Council meets the 2nd Tuesday of every month, 12:30 p.m. – 2:00 p.m. at The Children's Center Midtown Campus, located at 79 Alexandrine West.
How to Join Consumer Council
Join the Consumer Council!
Do you have a positive outlook? Are you passionate about your child's care and want the best for all children & families? Are you interested in spreading the word about The Children's Center through advocacy, volunteerism & community service? If so, The Children's Center Consumer Council is right for YOU!
Consumer Council members:
Are empowered to have a voice in making decisions that enhance the quality of service provided to children & families at The Children's Center
Advocate on behalf of all families served by The Children's Center
Are participants in their own education and enrichment by designing tools which will lead to living a balanced lifestyle
To learn more, please contact contact Pamela Kelly at 313.262.1227 or pkelly@thechildrenscenter.com.
If you're ready to join the Consumer Council, complete the form below and a Consumer Council member will be in touch with you soon.
Consumer Council Calendar of Events
Calendar of Consumer Council Events
June 29 @ 6:00 pm
-
8:00 pm
June 30 @ 6:00 pm
-
8:00 pm
TCC Annual Consumer Town Hall Meeting
Date: Thursday, July 13, 2017
Time: 5 p.m. – 7 p.m.
Location: The Children's Center
Description:  The Town Hall is an opportunity to for client family to ask question and make TCC leadership aware of concerns. This meeting is attend by the CEO, Mrs. Debora Matthews.
LOCAL AWARENESS ACTIVITIES
BHPI Mental Health Matters
National Children's Mental Health Awareness Day
Light it Up Blue
Annual Fatherhood Forum
NATIONAL AWARENESS OBSERVANCES
Autism Awareness Month – April
Foster Care Awareness – April
Month of The Young Child – April
Mental Health Awareness Month – May
Consumer Current Newsletter
Download the Consumer Current
Download recent and archived issues of the Consumer Council's Consumer Current Newsletter
Have you signed up for the Parent Portal yet?
Top 7 reasons why you should:
Track your or your child's medical history at The Children's Center.
Safe, protected real-time access to your or your child's medical information.
Send your or your child's clinician a message in-between visits.
See upcoming appointments.
Get quick links to community resources and assistance.
Quickly send health information to other health care providers.
Set it up in minutes, access it anywhere, anytime.
To learn more, just ask your clinician about the Parent Portal.
If you've already signed up, click the button below.

School Based Services
Counseling and Case Management
The Children's Center provides individual and family counseling and case management support to help families with basic needs in the following schools:
Academy of the Americas
Bagley
Bennett
Burns Carleton
Central High School
Earhart Gee White Academy
Henry Ford High School
Law
University Preparatory Academy Middle School
Western
Woodward Academy
If you are interested in counseling services at any of these schools contact Coordinator Ebony Redding at 313.262.1230.
After School Enrichment
The Children's Centers' 21st Century Community Learning Centers Program provide students with academic enrichment opportunities along with STEM activities designed to complement the student's regular academic program. Centers provided a range of high-quality services to support student learning and development, including tutoring and mentoring, homework help, academic enrichment (such as hands-on science or technology programs), and community service opportunities, as well as music, arts, sports and cultural activities. The Children's Center partners with the following schools:
John R. King
Fisher Upper Academy
Ronald Brown
Carleton
Academy of Americas
If you are interested in afterschool enrichment at any of these schools contact Coordinator Angela Booker at 313.262.1211.
Click on the following links for additional resources
Child and Adolescent Functional Assessment Scale (CAFAS) Brochure
Preschool and Early Childhood Functional Assessment Scale (PECFAS) Brochure
2017 Consumer Council Town Hall Question & Answers
Q: I know a child with HAP insurance child whose needs are not being met by health care provider, why can't he get services at The Children's Center?
A: Services are paid for by Insurance plans such as HAP which is a part of Henry Ford Health Systems. We have not had success with becoming a HAP provider.  Therefore we cannot service HAP Covered clients without approval for out of network services.  Not all insurance companies are equal, so they do not cover the same services.  Our goal is to expand to commercial insurance and Medicaid Health Plan.  The Children's Center primarily serves those with Blue Cross and Medicaid.  The Medicaid services are paid by Managers of Comprehensive Provider Networks (MCPN) CareLink, ConsumerLink, and Integrated Care Alliance through Detroit Wayne Mental Health Authority.  These services these client receive are usually for more comprehensive and specialized than those with commercial insurance or Medicaid Health Plans.
Q: I was mailed incorrect information and the dental clinic left my information in the reception window. This is unacceptable, how will The Children's Center keep my information confidential?
A: This is very concerning to us because confidentiality is very important at The Children's Center.  We want all of our clients to feel safe and protecting their personal information is part of that.  We will follow up with our medical records, client services and the dental clinic to investigate these concerns to implement improvements.  If you are ever dissatisfied with your services or how you are treated, please contact customer service.
Q: My child's progress has been sporadic, now I am being told that therapy is not for everyone. I disagree with both the therapist; and the psychiatrist who want me to medicate my child. What should I do?
A: Services at The Children's Center is person centered. You have choices in your child's treatment.  We understand that treatment is individualize and so is progress.  It is important the entire treatment team come together to address this type of concern.
Q: How do I obtain information on adopting a child?
A: Call 313.262.1119 get information on adopting a child or visit our website at thechildrenscenter.com/what-we-do/a-safe-home/adoption/
Q: Why can't there be parking on the land next to building?
A: TCC does not own the property but desires to purchase the property or obtain it a as a donation. We have been investigating this land for quite a while.  We continue to look into how we can acquire the land or negotiate parking.  Nevertheless we make sure the space is secure (fenced) and maintained (lawn serviced) for the safety of our clients.
Q: Will you build another building?
A: Not at this point. Cost is a consideration in constructing a new building so The Children's Center is investigating renting existing properties.  TCC wants to expand services throughout the City so families in need on the East and West side do not need to come to the main campus here in midtown Detroit.
Q: Are there psychiatrists for parents to discuss their problems?
A: We must listen to the problems of parents as it relates to serving their children.  We cannot work with the child unless we work with families and provide services, supports and referrals.
However, sometimes parent need their own therapist/psychiatrist that will be dedicated to helping them overcome their own personal challenges that are not related to parenting.  We are not the best qualified to assist with adults. We want to be really good at serving children and be the best child serving provider. But we do support parents with models of service designed to support parents in supporting their children. We have several services that support families of children we serve; Wraparound, Case Management, Home Based, Parent Management Training – Oregon Model, Parent Support Partners, Infant Mental Health and Fatherhood Initiative.
Q: Are there resources for food and transportation?
A: The Children's Center provides clients who need them with bus tickets and cab vouchers.  Medicaid can be used for some medical appoints, such as Psychiatry.  However, Medicaid does not cover transportation for therapy appointments.   The Boutique has limit food. However, Case Managers and Supports Coordinators should help link families to organizations that exist to provide food.
Q: Why there are so many problems getting mental health services for a Foster Care child with problems.
A: One challenge is Medicaid insurance stops when a child is taken from his/her birth family. The Medicaid must be active to access services. Another challenge is foster children do not always meet mental health eligibility requirements due to lack of information.  We need a knowledgeable adult who can inform the intake worker of the child's history and current behavior.  Without this information we cannot provide the services because we cannot determine eligibility.  Internally, we are working together, Mental Health and Child Welfare staff, to educate one another and families on what is needed to get foster children into care.
Q: I have been a client for 10 years. I have had six clinicians and five supports coordinators in Autism services. Why the constant change in staff?
A: The Children's Center, as many mental health providers, is challenged with staff retention. We want to provide the care you need but sometimes it might mean you need a new clinician. Staff often leave for better opportunities or more money.  We have been working hard on our retention strategies; such as a recent pay increase to all staff as well as implementing strategies to make us the best place to work.
Q: What happened to the portal (Client Electronic Health Record); I have been locked out and unable to access it?
A: The Client Portal is still available. We will work on providing information to clients on technical support need for the Portal.
Q: My son has been a client for seven years. We have never heard about wraparound services or homebased services.  Eight families have withdrawn from TCC in the last several months because clinicians do not know about what is offered. Who do I talk to?
A:  If ever you have a concern about your child's treatment contact customer services (Charles Gaines).  There are signs in the Lobbies about Customer Service.  Do not hesitate to contact them.  They are there to assist you about services provided or refer you to an outside organization.  We will continue to educate both clients and staff of many service options at The Children's Center.
Q: Why does it take so long for proper clothing for foster care children?
A:  Foster parents are allotted one initial clothing order upon the child entering the foster care system and then they receive an annual clothing order which is divided into two payments a summer and fall clothing order going forward.  Unfortunately, when children are moved from one placement to another all of their belongings may not make it in the transition.  It is also important to know that it is not uncommon for the children to experience growth spurts thus rapidly growing out of their clothes and shoes.  If a child enters foster care without adequate clothing TCC tries to process an initial clothing allowance of about $105.00 to help assist the children until the initial order is processed by DHHS.
Didn't find what you were looking for?
Send us your question(s) using the form below.