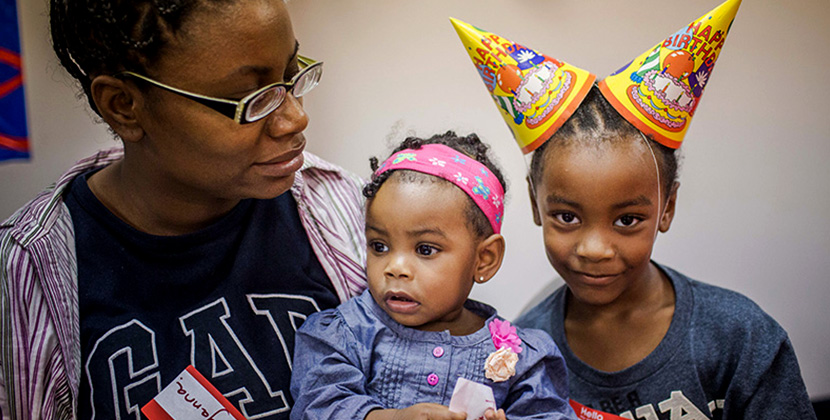 This is your Consumer Advisory Council
The Consumer Advisory Council is designed to encourage families whose children are clients at The Children's Center to be involved in, and participate fully, in decisions related to their care and services. The council uses consumer ideas to improve services and agency management practices by:
Serving as an advocate for children, youth, and families at The Children's Center by being a voice for those we serve and providing recommendations to the organization and its staff.
Helping new clients and their parents understand services and resources provided by The Children's Center.
Improve community awareness of services and resources provided by The Children's Center.
Please join us! Consumer Advisory Council meets the 2nd Tuesday of every month, 10:30 a.m. – 12:30 p.m. at The Children's Center Midtown Campus, located at 79 Alexandrine West.
How to Join Consumer Advisory Council
Join the Consumer Advisory Council!
Do you have a positive outlook? Are you passionate about your child's care and want the best for all children & families? Are you interested in spreading the word about The Children's Center through advocacy, volunteerism & community service? If so, The Children's Center Consumer Advisory Council is right for YOU!
Consumer Advisory Council members:
Are empowered to have a voice in making decisions that enhance the quality of service provided to children & families at The Children's Center
Advocate on behalf of all families served by The Children's Center
Are participants in their own education and enrichment by designing tools which will lead to living a balanced lifestyle
To learn more, please contact contact Pamela Kelly at 313.262.1227 or pkelly@thechildrenscenter.com.
If you're ready to join the Consumer Advisory Council, complete the form below and a Consumer Council member will be in touch with you soon.
Consumer Advisory Council Calendar of Events
Calendar of Consumer Advisory Council Events
Faces of Trauma
Date:  Thursday, February 1, 2018
Location:  The Children's Center
Description: Open discussion around what trauma is and how it effects children and families.
TCC Annual Consumer Town Hall Meeting
Date: TBD
Time: 5 p.m. – 7 p.m.
Location: The Children's Center
Description:  The Town Hall is an opportunity to for client family to ask question and make TCC leadership aware of concerns. This meeting is attend by the CEO, Mrs. Debora Matthews.
LOCAL AWARENESS ACTIVITIES
BHPI Mental Health Matters
National Children's Mental Health Awareness Day
Light it Up Blue
Annual Fatherhood Forum
NATIONAL AWARENESS OBSERVANCES
Autism Awareness Month – April
Foster Care Awareness – April
Month of The Young Child – April
Mental Health Awareness Month – May
Consumer Current Newsletter
Download the Consumer Current
Download recent and archived issues of the Consumer Council's Consumer Current Newsletter
Have you signed up for the Parent Portal yet?
Top 7 reasons why you should:
Track your or your child's medical history at The Children's Center.
Safe, protected real-time access to your or your child's medical information.
Send your or your child's clinician a message in-between visits.
See upcoming appointments.
Get quick links to community resources and assistance.
Quickly send health information to other health care providers.
Set it up in minutes, access it anywhere, anytime.
To learn more, just ask your clinician about the Parent Portal.
If you've already signed up, click the button below.

Click on the following links for additional resources
Child and Adolescent Functional Assessment Scale (CAFAS) Brochure
Preschool and Early Childhood Functional Assessment Scale (PECFAS) Brochure
2017 Consumer Advisory Council Town Hall Question & Answers
Q: Is it possible to use the lobby televisions to communicate TCC information, events, and services offered?
A: Yes, we are actively pursuing this and you can expect to see it happen in the near future.  Information regarding events, services, and general TCC information is also located on our website.
Q: Can you help me understand CAFAS scoring, and how it relates to my child receiving services?  My child fell below 50 and was discharged from BHS, he still receives medical services but needs to continue receiving behavioral services.
A: CAFAS is an assessment that is used by specific insurers to determine eligibility criteria. We will need to evaluate what type of insurance your child has and then panel with that insurance.  TCC is currently impaneled with many, but not with all Wayne County Medicaid Health Plans and Commercial insurers.
Q: Is TCC pursuing integrated care for mental and physical health?
A: Yes. TCC had a pediatrician on campus; however, it was determined that parents preferred to go to their own pediatrician, so we discontinued that service.  Dental Services are provided at TCC.  We also increased nursing and medical services with the addition of a Medical Assistant and Nursing Care Manager who provide blood draws and screenings. Case Managers and Support Coordinators work with families to support their physical health needs and insure integration.
Q: Will TCC staff provide support within my child's school and advocate for my child's education?
A: Yes.  It is important for families to be aware of, and communicate their needs to Clinicians, Case Managers and Supports Coordinators so they can provide for the client needs (i.e. mental health, physical health and education).  These needs should be communicated in the treatment plan, which is also used to establish goals. Our goal is to support parents so that they can advocate for their children.  We also have staff, Parent Support Partners, who are trained to provide parents with peer support and educate parents on education related issues.
Q: If I am not participating in Parent Management Training or Parent Child Interactive Treatment why would I, as a parent, need to attend every session for my child to come to therapy?
A: You should discuss this with your Clinician and Doctor to determine if your participation is necessary.  It depends on the age of the client. However, remember that parents play a critical role in ensuring the children meet their milestones. It often helps improve the parent to child relationship, and the parents' understanding of their child's behavior when they attend.
Q: How do we find out about the services offered at TCC?
A: Ask your child's Clinician, Case Manager and Supports Coordinator.  Read the Consumer Current (quarterly newsletter on TCC Website).  Go to TCC Website, click on Events Calendar, and download flyers and information. The TCC website works well on smart phones. Also, look at signage on the white boards, located in all Building Lobbies in addition to the events calendar on elevator doors on building 90 lower level.
Q: Is TCC looking to hire more male therapists?
A: Yes.  TCC would love to hire more males!  Unfortunately, applications from male therapists are rare.  Our Human Resources Department is in the community recruiting, and it is a goal of ours to bring more male therapists on staff.
Q: What programs are offered to single working parents with children in therapy? Are there services/programs offered to new parents?
All TCC programs are available to children and youth based on need.  Parents are provided support in order to best support their children.  Some of our parent focused services are Parenting Thru Change, Parent Child Interaction Therapy, Infant Mental health, Parent Management Training, ADHD Group, and Parent Support Partners.  The Consumer Council also hosts a Parent Support Group the 4th Friday of every month at 6pm.
Q: Why can't youth from TCC go to homes for clients?
Youth who are hired has Youth Peer Support Specialist are allowed to provide services at home, in school and in the community.  Other youth staff, such as youth advocates, do not have a role in clinical services and should only provide advocacy and support within their scope of responsibility, this includes youth training, community events, and advisory groups.
Didn't find what you were looking for?
Send us your question(s) using the form below.