A first impression is critical. And when it comes to your job search, you'll most often make that first impression through your resume, as recruiters and hiring managers sift through stacks of resumes to narrow down the list of candidates for a position.
While it is up to you to fill your resume with outstanding content, you don't have to invest hours agonizing over the format of your resume. Instead, save yourself some time designing and dedicate it to interview prep, and let these templates do the work for you. You'll just need to make a few decisions, including:
How much will you pay for a resume template?
Which resume style is right for you and your career path?
Here, we've compiled 12 exceptional resume templates sure to make a great first impression.
Traditional Resumes
If you're early to mid-career and you aren't in a creative field, a traditional resume template allows you to create a polished resume with the space to back up your experience.
1. Find 7 classic different resume templates, some entirely in black and white, and some with some color accents.
Cost: Free
Format: Microsoft Word
USE the Primer Magazine Template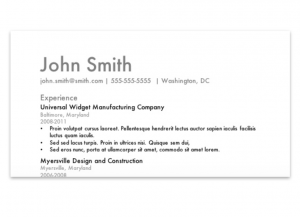 2. While this only offers one format, you can store your resume with your Google account, allowing you to access it anywhere you can access the Cloud, which may come in handy if you need to apply to jobs while you're on the road.
Cost: Free
Format: Google Doc or Microsoft Word
USE the Google Docs Template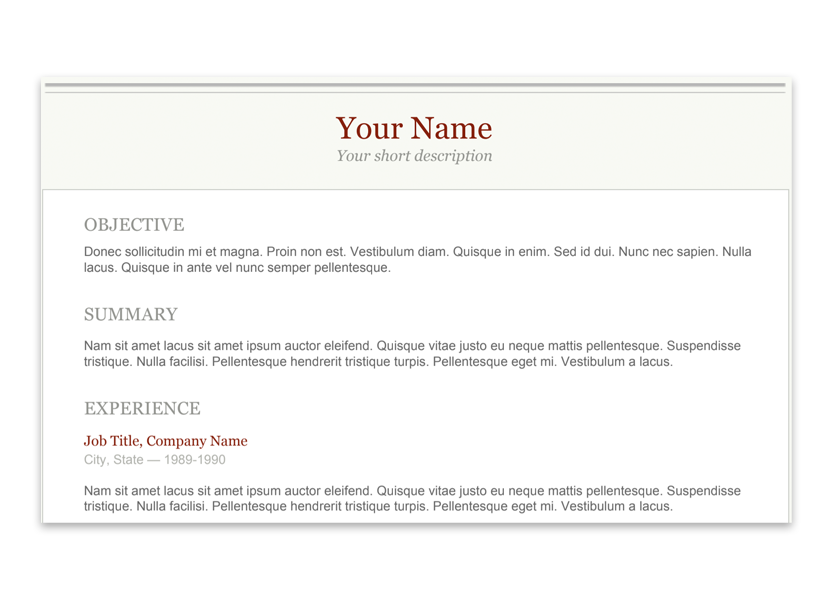 3. With this site, you can determine how much customization you would like, by using the free, off-the-shelf version, or upgrading to a subscription service. The free plan offers 4 templates and paid versions offer 17.
Cost: Ranges. Free, $29 annually or $79 one-time payment
Format: PDF only for the free service; the premium plans also offer Microsoft Word
USE the Resumonk Template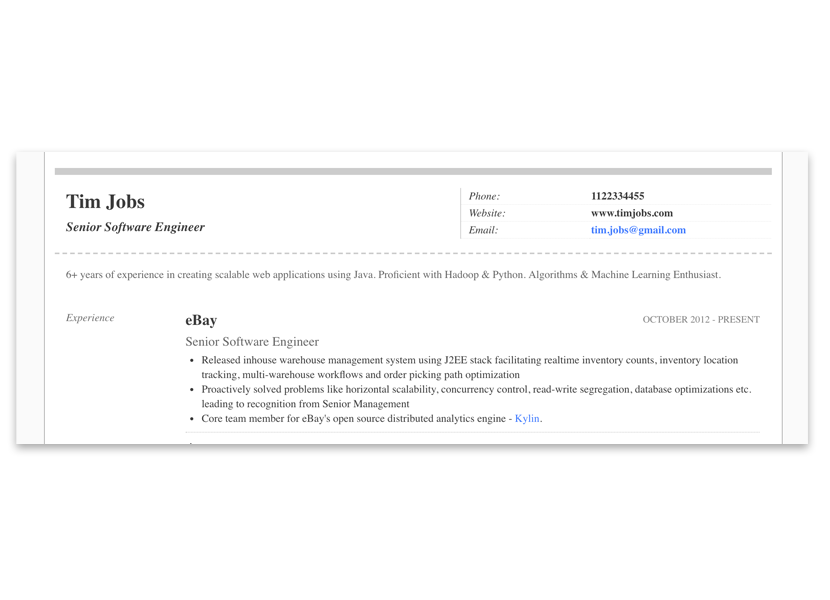 4. In a nod to your sense of structure, this resume is highly structured but uses whitespace to highlight the functions. According to the site, fields like project management, consulting, finance, engineering, and healthcare tend to appreciate this design.
Cost: $99
Format: PDF, Mail Hard Copy
USE the Loft Resume Template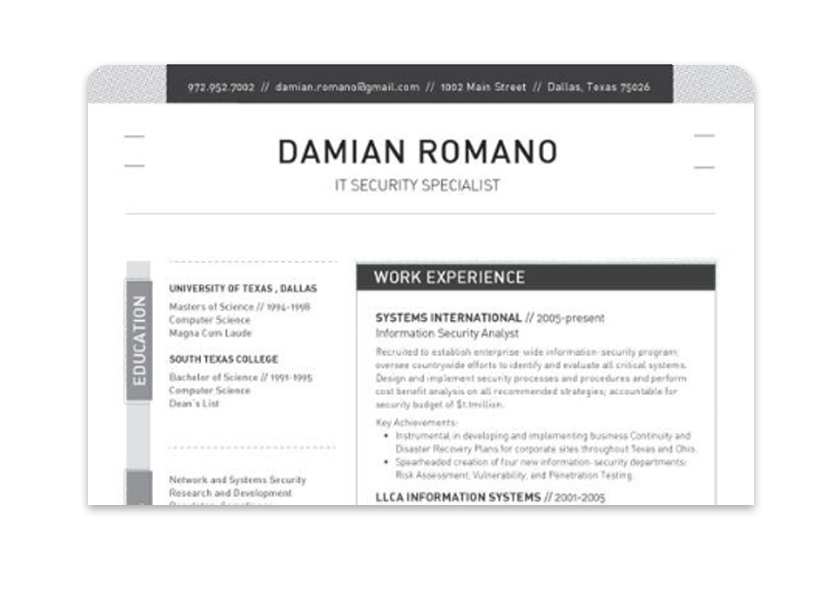 Creative Design Resumes
If you're in a creative field – or switching careers to move into a creative field – a more creative design is appropriate and can set you apart from your competition and highlight your adventurous, out-of-the-box approach.
5. Part of a free 5-pack, this template takes a new angle on resumes – literally. You can edit them online at createer.com
Cost: Free
Format: PDF
USE the Behance Template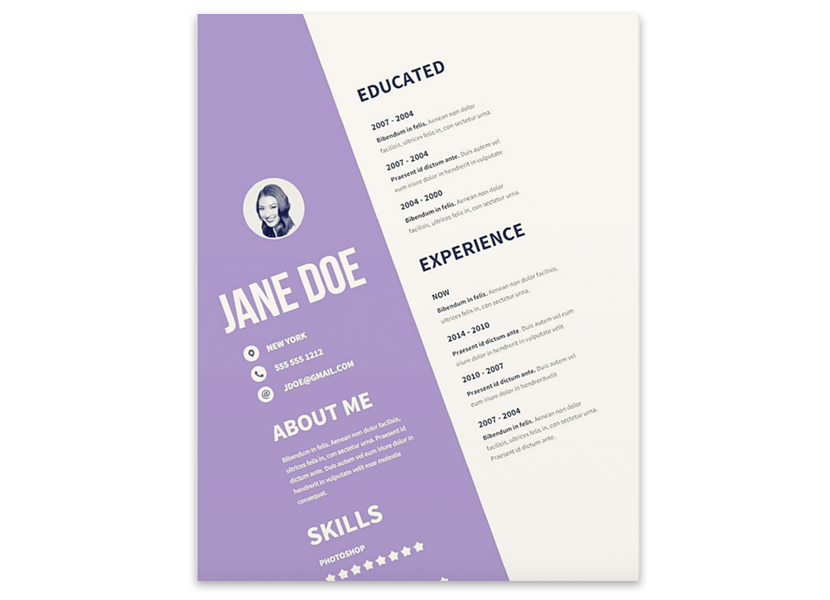 6. Make your name memorable with this headline-focused template.
Cost: Free
Format: Photoshop PSD File
USE the Cursive Q Template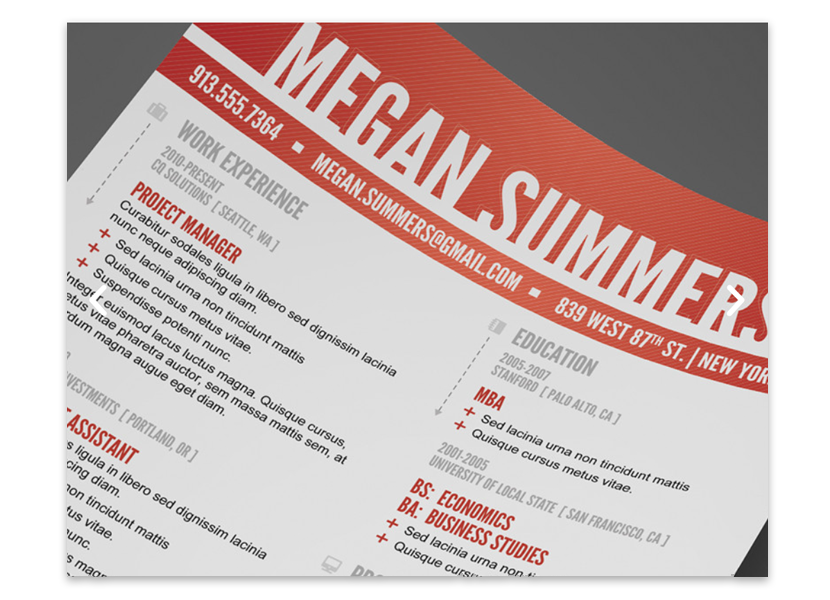 7. This template is heavy on visual, light on text.
Cost: Free
Format: Adobe Illustrator
USE the Tina Von Helsinki Resume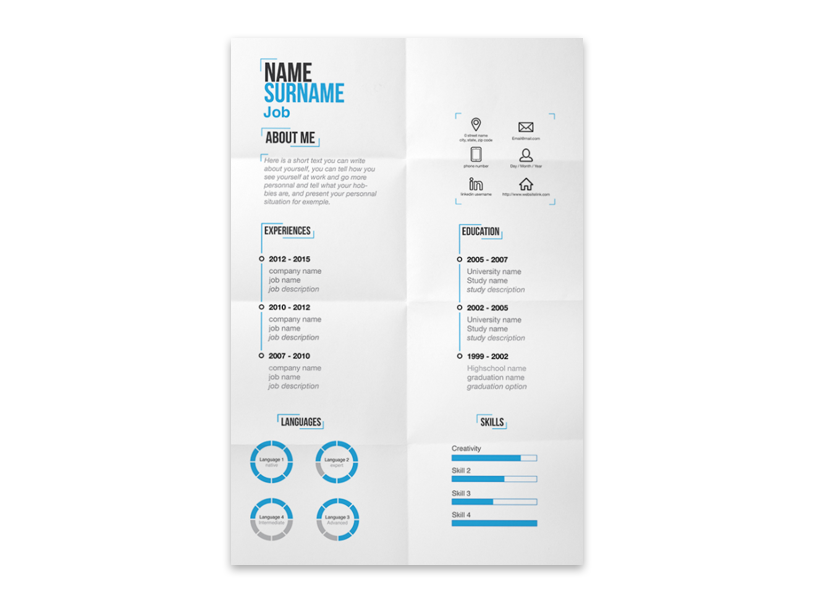 8. For writers, editors, copywriters, bloggers, or journalists, this magazine-style format emphasizes your love of text.
Cost: $99
Format: PDF
USE the New Yorker Resume Template

Modern Resumes
The middle ground between a graphic and traditional resume, a modern resume capitalizes on some color and design without straying too much from traditional formats. For innovation positions or companies that may not value a highly graphic or creative resume, this options works well.
9. This template allows you to customize the color accents – and update it if you change your mind later.
Cost: $15
Format: Microsoft Word
USE the DISTO CV Template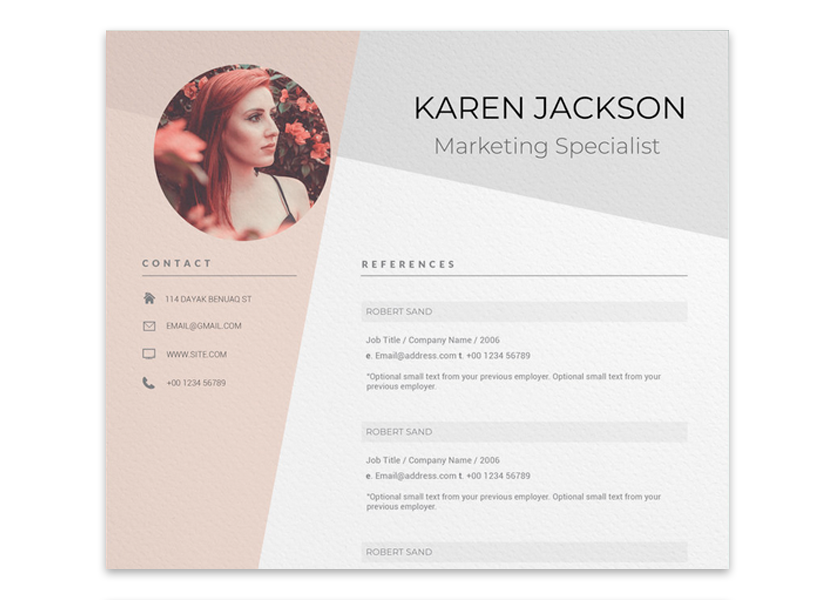 10. This two-page design also allows you to choose from four colors and leaves plenty of room for your content.
Cost: Free
Format: Microsoft Word, Apple Pages
USE the Resume Way Template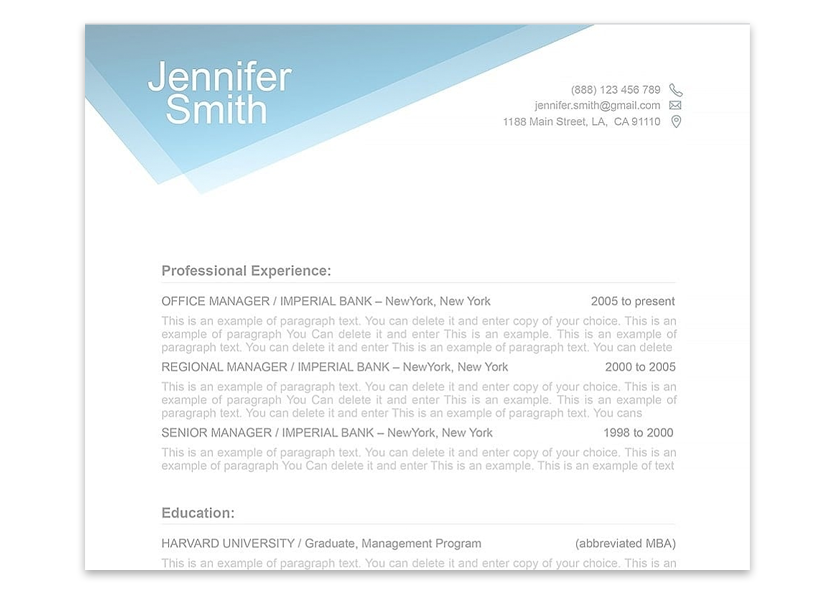 11. This front and back template includes some visuals while leaving room for traditional content.
Cost: $5
Format: InDesign or PDF
USE the Creative Market Template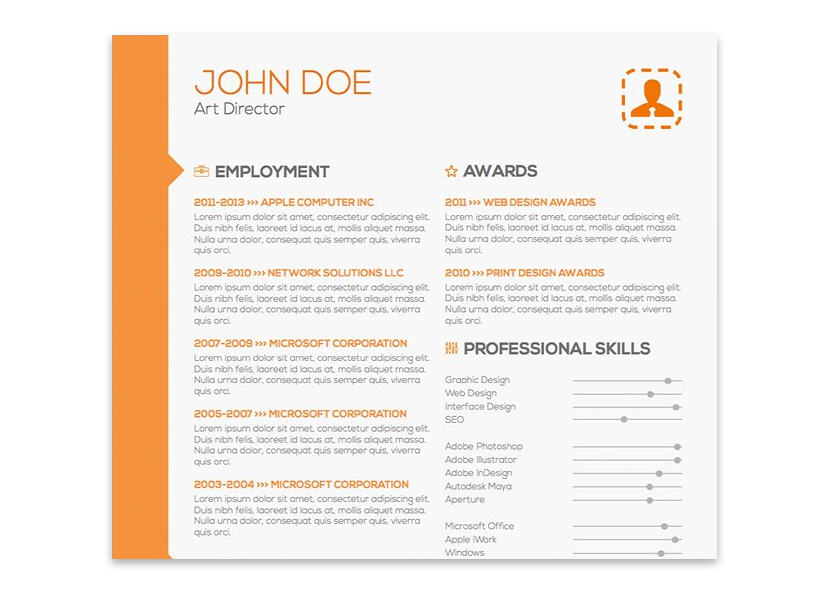 12. Keep it simple with this simple, but eye-catching template. This also provides an organized focus.
Cost: $10
Format: PSD Photoshop Document
USE the Creative Market Template

Resume Builders
If you want even more control over your resume, you can also use a Resume Builder service, where you create your resume (either from a template or from scratch) and export the final product. Many also keep Applicant Tracking Systems (ATS) in mind. Some services include:
Resume Coach: This site keeps its templates exclusive, which means they are less likely to be in widespread use. You can find all different resume types here, and receive industry advice.
Resume Genius: A resume expert will review your final product – a good option if you're pressed for time and don't want to wait on family or friends to review.
Canva: If you're looking for creative options, this site offers infographic style templates or the ability to create from scratch.
Ready to revamp your resume? Don't forget to review our 6 Resume Hacks and recommendations to Enrich Your Resume with Well-Placed Links.