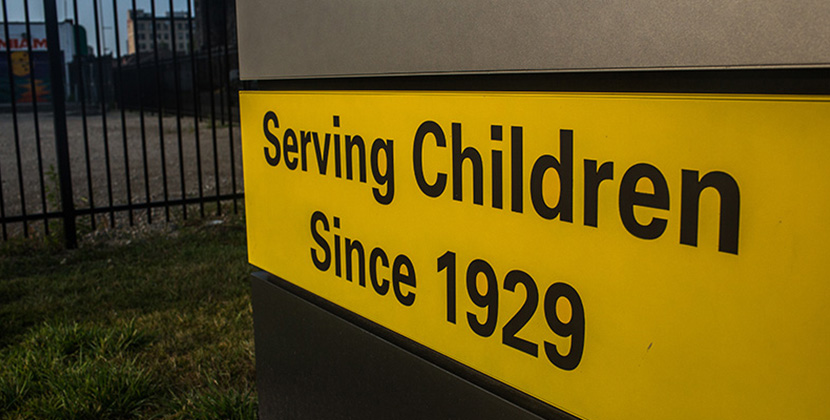 Be a brand steward
It's up to each of us to represent The Children's Center, any time and all the time. To do that, we need to understand our brand and, just as important, we need to know how to communicate our story. That begins with a solid understanding of our brand strategy and messaging.
Remember these five ways to be a strong brand steward.

It's true we have the most comprehensive array of children's mental, behavioral and developmental disabilities services in Wayne County. And we do serve over 7,500 children and families each year. While these are impressive statistics, they don't even begin to define us as well as our three hallmark qualities: holistic approach, advocacy and advanced expertise. Always lead with what makes us unique and pepper in our facts, figures and statistics as you get deeper into our story.

Instead of talking about our campus and facilities, share the advantages we provide as a place of hope and healing for children and families. These include:
• Offering access to licensed psychiatrists, psychologists and therapists
• Treatment of the whole child by addressing more than a single issue
• Examining barriers in the home, school and community
• Providing evidence-based care to guide diagnosis and treatment

Our brand values are critical to our story, but they can be difficult to articulate, particularly when an audience doesn't know us well.  So it's important that we describe our values in everyday terms.
Respect for individuals
We welcome and respect children and families of all backgrounds, ethnicities, sexual orientations and religions.
Passion for healing children

Children are at the center of what we do. We are passionate about helping them heal and thrive. 

Holistic treatment
We consider and treat every potential barrier in a child's life: at school, home and in the community.

Trustworthy
Creating a safe, nurturing environment is essential; our kids feel at home in our space and with our staff.

Compassionate
We are empathetic to every family's situation, and strive to be partners in the healing process.
Empowerment
Our goal is to help kids learn to self-advocate and feel encouraged to take on the world.
Optimistic
We've helped thousands of children heal from challenge and trauma. We're confident in our belief that all of our clients can experience more positive future.


The Children's Center offers great services and outcomes. The challenge is that other agencies say they do, too. Focus on our greatest differentiator: our dedicated, passionate psychiatrists, psychologists and therapists who practice treatment from experience, using evidence-based integrated care.

It's not a tagline or a headline. It's our brand promise, and everything we communicate should pay it off. Explain how a practical treatment experience helps our children and families heal, grow and thrive. Describe how we help children by looking at more than a single issue, and working with the family who raises them. Talk about how we bring all our learning together to support healing and pave a road to a fulfilling childhood. Discuss how we empower children's voices so they learn to self-advocate once they're outside the comfort of our walls.
When you're crafting a communication, make sure you're on track by asking these six questions:
1. Is there a clear tie back to our brand messages?
2. Instead of overemphasizing facts and figures, are you getting right to the heart of our story?
3. Do you support every attribute with a benefit (why it matters)?
4. Have you tailored the communication to your specific audience?
5. Is there a clear call to action?
6. Does your communication convey our personality?