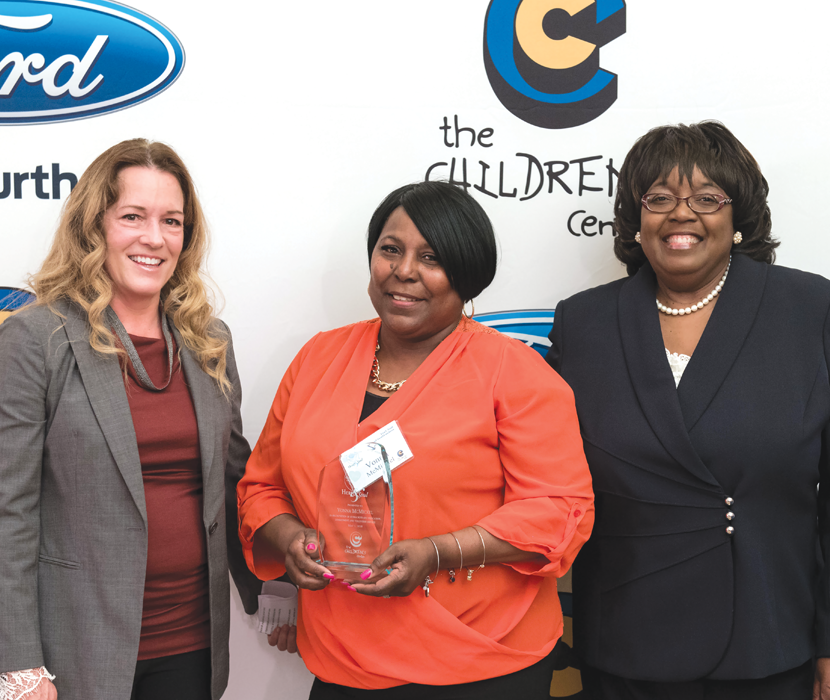 From left to right, Lisa V. Ford, Vonna McMickel, and Debora Matthews, CEO of The Children's Center, at the Lisa V. Ford Volunteer Luncheon.
"About ten years ago, I adopted three boys who are biological brothers, Trevel, 16; Jeleel, 12; and Jacario, 10. Now, I am fostering a little girl, who is five. When I first adopted my sons, a lot of people doubted my commitment. They said I would want to give them back because they had too many problems. But that made me even more determined to show that with the right intentions and tools, you can change a child's life for the better.
The boys were easy to please at first. I took them to the Salvation Army to buy all new clothes and they had a blast picking everything out. It may not have been name-brand clothes, but they finally had things to call their own and that was exciting for them.
At the same time, I was noticing some real problem behaviors that I didn't know how to deal with. The boys were stealing and hoarding. They didn't realize these were bad things because that's what their parents taught them to do to survive. They would steal food in the grocery store and hide food all over the house. I knew I needed more help to break these habits, so I brought the boys to The Children's Center for therapy in the General Behavioral Health program.
When we came to The Children's Center, everything changed. Trevel, the oldest of the three, had a breakthrough after several months of therapy and revealed that he was sexually abused while in the care of his biological mother. He had a lot of pent-up anger that he released, and from there everything was different for him. He started getting better grades in school and making more friends. And the younger two learned coping skills for their stealing and hoarding habits. I also went to groups about parenting children with ADHD and parenting kids who have experienced sexual abuse and trauma. The groups taught me different ways to manage their behaviors and understand their motivations.
The Children's Center made a huge impact on our lives. They taught my boys how to deal with their past trauma, and they taught me how to love and care for them in the ways they most needed. The most important piece that I want people to understand is that what these kids go through is not their fault. Some children think it's their fault that they are abused, mistreated, or taken from their parents, but it is the parent who is supposed to nurture and protect their children. I decided to adopt because I knew I could love and care for these children in a way they hadn't been before. I hope that anyone who decides to be a foster parent or to adopt is going into it with the same intentions. It is not an easy process, but if you love them for who they are and give them the right resources like what The Children's Center provided us, you can make a huge difference in a child's life."
Vonna McMickel is a Children's Center parent, as well as regular volunteer. This year, she received the Lisa V. Ford Heart and Soul Award for her dedicated volunteer service. We thank her for sharing her family's inspiring story and for showing all children unconditional love and care. It is because of donors like you that Vonna's family was treated here at The Children's Center, and that she pays that forward every day with her service to our agency.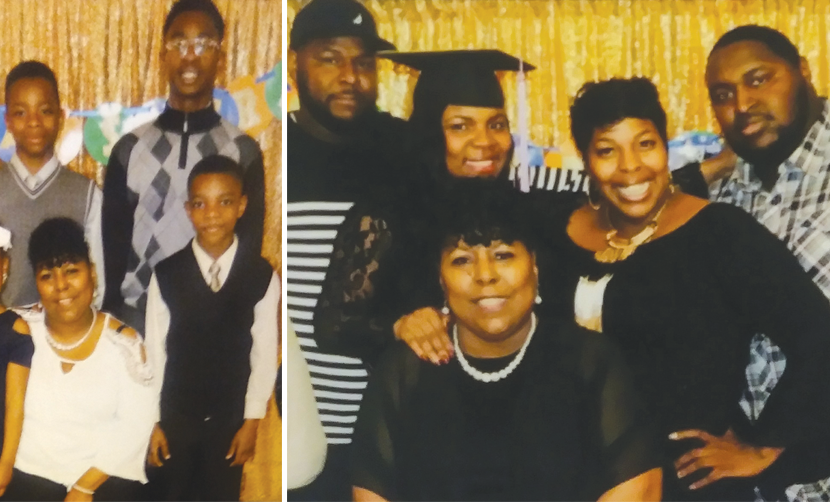 Left: Vonna with her adopted sons; Right: Vonna with her adult children